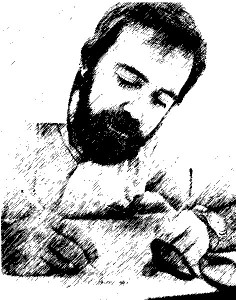 Tom Coleman was the Chief Staff Artist for the Opelousas (La.) Daily World newspaper from 1982 to 1987.
Primarily responsible for advertising design and layout, Coleman also contributed to news graphic design and later became an editorial cartoonist.
He was part of the newspaper's redesign team after it was purchased by the New York Times Company, and he worked with Lou Silverstein and Mary Holdt in enabling the new look and feel of the DW.
In 1985, Coleman took both first and second prizes for best editorial cartoon by the Louisiana Press Association Better Newspaper Contest. That particular contest was not limited to newspaper circulation size but open to all newspapers throughout the state including the Baton Rouge Morning Advocate and New Orleans Times Picayune.
Alas, political cartoonists seemed to have suffered the same fate as green eyeshades and AP teletype machines, and Coleman has hung up his Speedball pen years ago.